The Better Medicare Alliance Visits Hallandale Beach Center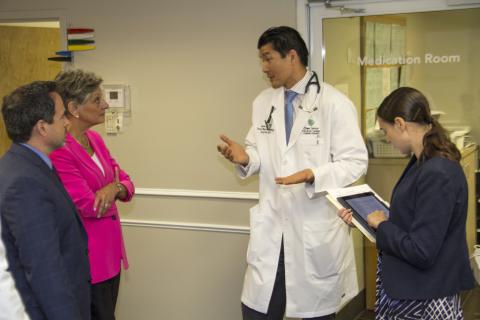 The Better Medicare Alliance (BMA), a coalition of experts and organizations that support Medicare Advantage based in Washington, D.C., recently traveled to ChenMed's Hallandale Beach center to learn more about the ChenMed model of care. ChenMed Chief Medical Officer Dr. Gordon Chen and ChenMed South Florida Market President Jason Barker welcomed BMA President Allyson Schwartz, a former U.S. Congresswoman, and BMA Senior Policy Associate Amanda Hurley. They toured our senior medical center and met with ChenMed clinic staff, physicians, and patients.
BMA and ChenMed share a common goal: ensuring seniors have access to high-quality, value-driven health care. As part of its mission, BMA regularly explores innovation in Medicare Advantage, particularly models of care that show promise at bringing seniors better care and better health outcomes. During the visit, we were able to show the BMA team how we honor seniors by providing them with high-quality, concierge-style health care – the type of care usually reserved for CEOs. We also talked with them about how we have replicated this model across our more than 40 senior medical centers.
In particular, we explored with BMA how high-touch care can improve health outcomes for high-cost, high-need patients. By providing care that directly addresses social determinants of health, we can help seniors avoid costly trips to the ER or hospital and help them have more healthy days over the long term. Ultimately, that lowers health care costs. We were even able to introduce the BMA team to some of our patients who shared how Medicare Advantage is working for them.
Dr. Gordon Chen highlighted some data on the better outcomes and lower costs that we have experienced as a result of our unique care coordination efforts, including rates of ER visits that are 33 percent lower than the average among Medicare beneficiaries. One primary reason for these superior results is the high-touch care ChenMed seniors receive. ChenMed doctors average 189 minutes of face time with each patient each year – nine times the national average.
These results and others are included in ChenMed's recent report 'How High-Touch Care Improves Outcomes and Reduces Costs'. Moving forward, ChenMed and the Better Medicare Alliance will continue working together to showcase how Medicare Advantage is improving the health care of seniors across the country.
BMA members include Medicare beneficiaries, caregivers, health plans, physicians, hospitals, and advocacy and aging organizations. ChenMed works with BMA as one of the organization's Allies.